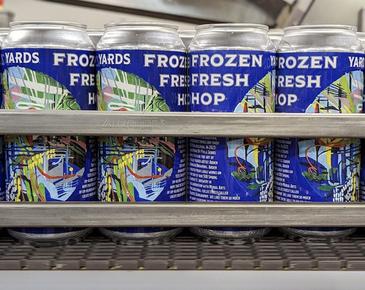 Immediate Release
March 2023
Bridgette Mayer Gallery
t: 215-413-8893
e: bmayer@bmayerart.com
www.bridgettemayergallery.com
Arden Bendler Browning collaborates with Yards Brewing Co. on 'Made in Phila.' beer label and interactive Virtual Reality experience.
March 29, 2023 - Philadelphia. Arden Bendler Browning, Yards Brewing Co. and Bridgette Mayer Gallery recently announced a new project in Bendler Browning's ongoing collaboration with Yards. The collaboration began in partnership with Mural Arts and Alliance HSP and saw Bendler Browning create a custom mural for the exterior of Yards' Philadelphia brewery. The mural, collectively titled Elastic Geography, consists of four circular paintings inspired by Yards product labels, brewery, and neighborhood landmarks.
This week, Yards unveiled a new 'Made in Phila.' beer series featuring Bendler Browning's work. There will be four cans in the series, released seasonally and each featuring one of the tondos in Elastic Geography. Each label design includes a QR code which links to Elastic Geography.EXT, an interactive, 360-degree 3D environment that Bendler Browning created for Yards. Elastic Geography.EXT turns a user's smartphone into a window to Bendler Browning's imagined world and features photographs of the mural, the brewery, and the neighborhood reimagined with digital drawings and animations.
Made in Phila. beers can be found at the Yards taproom and in stores starting Friday, March 31.
##