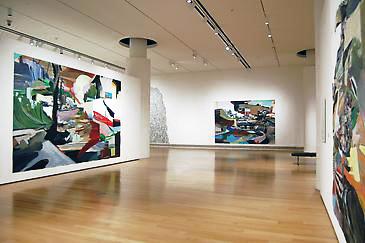 Urbanism: Reimagining the Lived Environment
Dates:
July 1 – September 4, 2011
Location:
Fisher Brooks Gallery, Samuel M.V. Hamilton Building, The Pennsylvania Academy of the Fine Arts
Philadelphia has long been a cultural center and, indeed, when PAFA was founded, Philadelphia was the most vibrant city in the Republic. A cradle for American art for over two centuries, it is now a city where hundreds of artists live and where hundreds more are being trained in its art schools and universities. Philadelphia is also a center that, over the past decade, has attracted artists away from other major cities, providing not only a richly supportive artistic community but also affordable working spaces and good transport and communications. The city provides a dynamic and vital environment that can be perceived in much of the work that is currently emerging from artists' studios. In this context, Urbanism provides an opportunity to look at four emerging artists from Philadelphia who, in various ways, re-focus the idea of the urban through a lens that explores the dreams, experience, and potential of the lived environment.
Reflecting the overlays of planning that direct our movement within our urban surroundings, Arden Bendler Browning's imaginations of the city are sprawling paintings where dynamically fractured space suggests the noise and speed of a vivid urban existence. Drawing on impressions of places, photographs, and memories, as well as exploring street views on Google maps, the artist renders the city as an abstraction where recognizable forms struggle to come to the surface only to be subsumed in a melee of interlocking perspectives. Painted on Tyvek and hung freely without frames, these works have a scale and immediacy that both envelops and energizes the viewer. Born in Philadelphia, Arden Bendler Browning studied at Carnegie Mellon University in Pittsburgh and Sydney College of the Arts in Australia, and was awarded an MFA in 2003 from Tyler School of Art in Philadelphia.
Employing a variety of media, Steven and Billy Blaise Dufala, known as the Dufala Brothers, create three-dimensional works that touch upon the absurd, while giving new meaning to discarded and homeless objects. Refashioning the everyday in ways that are unexpected and humorous, a dumpster can become a coffin and a toilet bowl can be transformed into the seat of a tricycle. In this repurposing of common objects, the Dufala Brothers question not only the nature and logic of consumer culture, but they also challenge us to think again about what art is and what it can be. Born in Philadelphia, Steven Dufala and Billy Blaise Dufala both studied at PAFA. They are both on the teaching staff of PAFA.
Ben Peterson's large-scale drawings picture environments where elaborate and highly detailed architecture and landscape maintain a temporary quality, leaning toward instability. Yet, while they resemble architectural Utopias, on close inspection the seeming orderliness of Peterson's idyllic images of roads, homes, and gardens becomes playfully disrupted as the visual edges of his imaginary world lift and buckle, crumble and fall apart. As if the slightest gust of wind might blow them away, the weightlessness of these beautifully rendered environments is unsettling, suggesting an assembly line world that runs the risk of fast becoming obsolete. Born in Hawthorne, Nevada, Ben Peterson received a BFA from California College of the Arts in 2004. He moved to Philadelphia in 2006.
Amy Walsh's sculptures allow us to look inside her ramshackle architectural constructions, made of cardboard and wood, toward their humble and labyrinthine interiors. Using discarded and found materials these exquisitely detailed objects evoke the familiar environment of gutted homes and abandoned warehouses. Walsh's translation of scale imbues her sculptures with an intimacy and vulnerability while restricting access beyond what can be seen through the windows and peepholes that puncture the exteriors. Walsh was born in Boston and, after studying at the Amsterdamse Hogeschool vor de Kunsten in Holland and the University of Massachussetts in Amherst, she graduated with an MFA from PAFA in 2006. She is currently on the teaching staff of both PAFA and Temple University.
Public programs surrounding this exhibition focus on the creation of that sense of place and the ways in which artists, curators, and critics see contemporary work being influenced by geography, especially in Philadelphia.
Curator: Julien Robson, Curator of Contemporary Art
PAFA's special exhibitions in 2011-12 are supported by generous contributions from Max N. Berry, Esq, Donald R. Caldwell, and Jonathan L. Cohen.