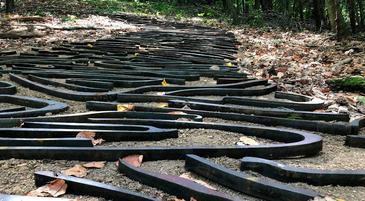 Art in Dialogue: Art and Climate Change with Rebecca Rutstein
March 24, 2023 11:00AM
Zoom
Rebecca Rutstein will join Lehigh University for a virtual artist talk as part of their Art & Climate Change First Year Seminar visiting artist lecture series, which discusses the intersection between art and climate change and the important role of contemporary visual artists' creative practice. This event is part of LUAG's Art in Dialogue, a series of interdisciplinary conversations between members of the university and the wider community - reflecting the ways in which their work is dynamically engaged with other fields of inquiry.
Multidisciplinary artist and part ocean explorer, Rebecca Rutstein works at the intersection of art, science and technology. For over twenty years she has created painting, sculpture, interactive installation and public art inspired by the natural world. Rutstein is passionate about creating visual and immersive experiences that shed light on places and processes hidden from view, to foster deeper connections in the face of our climate crisis. She has been an artist-in-residence at locations around the world including seven expeditions at sea and two dives to the ocean floor in the Alvin submersible. Her work with oceanographers, ecologists, microbiologists, molecular scientists and geologists give her a unique perspective and broad view of the interconnectedness of systems in the natural world. Rutstein's collaborations have been funded by the National Science Foundation, National Academy of Sciences / Keck Futures Initiative, Delta Airlines Foundation, Ocean Exploration Trust, Schmidt Ocean Institute and the Philadelphia Foundation along with several universities. She is the recipient of a Pew Fellowship in the Arts, grants from the Independence Foundation, Pennsylvania Council on the Arts, and Alabama Council on the Arts, and was named an MIT Ocean Discovery Fellow and the Delta Visiting Chair for Global Understanding at the University of Georgia. Her work can be found in over 40 public collections including the Philadelphia Museum of Art, Georgia Museum of Art, Pennsylvania Academy of the Fine Arts, U.S. Department of State, Yale University, Microsoft and AT&T. Rutstein has an exhibition opening at the National Academy of Sciences in Washington D.C. in March 2023.
Click here to register for the Artist Talk
Click here to view the full press release.