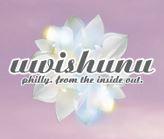 By Kristina Jenkins
http://www.uwishunu.com/2013/10/bridgette-mayer-gallery-exhibits-internationally-known-artist-ryan-mcginness-through-november-16-and-sponsors-a-mural-by-the-artist-at-the-university-city-science-center/
For more than a decade, Bridgette Mayer Gallery has shined as a top contemporary art space in Philadelphia.
Committed to spotlighting both emerging and established artists, gallerist Bridgette Mayer shows off the works of artists hailing from near (Philadelphia, New York) and far (Colombia, Spain) in her sophisticated Washington Square gallery.
This fall, the gorgeous gallery hosts a solo show by world-renowned artist Ryan McGinness, a contemporary painter whose work has been shown in galleries and museums across the world.
Drawing from three different bodies of McGinness' work, the new exhibition, Finding Infinity, will be on view through November 16. The extensive exhibit takes over the entire gallery, and includes works from previously created collections — Mindscapes, his Women series and his Black Holes.
Across town, the public can take in yet another piece from McGinness' Black Holes, a series which explores how notions of of outer space and mind space can relate to one another.
In partnership with the University City Science Center and the City of Philadelphia Mural Arts Program, Bridgette Mayer Gallery helped to sponsor a brand-new monumental mural that is now featured on the far side of the University City Science Center.
In fact, a dedication ceremony officially welcomes the mural to the city tonight, October 11, from 5:30 to 8:00 p.m. at the science center.
Additionally, Philadelphia can look forward to another exhibit of McGinness' works in the fall of 2014 at the Pennsylvania Academy of the Fine Arts.
Finding Infinity
When: Through November 16
Where: Bridgette Mayer Gallery, 709 Walnut Street
Cost: Free
More info: www.bridgettemayergallery.com