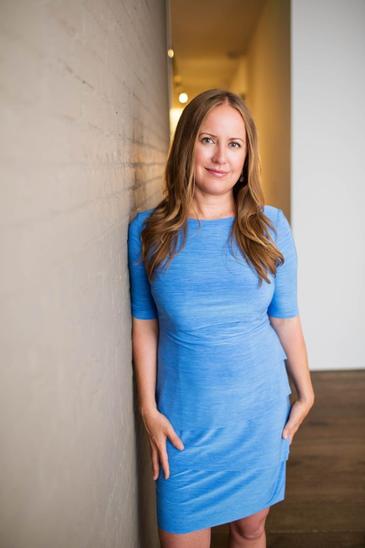 Gallery News – As of today, Bridgette Mayer Gallery transforms from a public to a private space. The new space is on the 3rd floor of the same building (the first floor gallery space will be leased out) and visits to the private gallery are by appointment.

Gallerist Bridgette Mayer, whose gallery is going private and whose new book The Art Cure, has just come out.
This hardly means a scaling back of activities for Mayer or her gallery artists. Mayer, who is committed to working with her stable of 18 artists, has penned a forthcoming memoir, The Art Cure, and the list of the many projects she's working on with her artists is formidable. The evolution of Mayer's business has been coming for the last year or so, reflecting trends away from white box spaces (witness, for example, Gallery Joe's transformation earlier this year); and Mayer's own shift — physically with a move to Los Angeles, where she spends half her week — and towards art advising and artist projects.
The commercial gallery scene in Philadelphia has always been vulnerable and subject to market whims and weak collector base, but maybe the 21st Century model where gallerists forgo spaces, become nomadic and work as curatorial managers on behalf of artists will prove healthy for both the artists and the gallerists. I hope so. Artblog has watched Bridgette Mayer and her gallery grow and adapt and continually refresh over the years. Bridgette, I wish you the best! Read more in the press release below.
Bridgette Mayer Gallery is pleased to announce that after sixteen years of business on Washington Square in Philadelphia as a public art gallery, it will be converting the business into a private gallery and project space on July 5, 2016. The gallery will remain in the building that owner, Bridgette Mayer, occupies at 709 Walnut Street and move its operations to the upper level penthouse floor, where it will occupy 1,200 square feet of space and be open by appointment.
The gallery will keep its core group of eighteen Philadelphia, New York, Los Angeles and
internationally-based artists and focus its programming on museum projects, studio projects and specially curated projects designed in conjunction with Bridgette Mayer Art Advisors in both Philadelphia and Los Angeles.
A selection of the projects underway are: a travelling museum exhibition of recent paintings by artist Neil Anderson in 2017 and an accompanying 100-page book with essays by John Yau, Sid Sachs, Roger Rothman and poetry by Charles Borkhuis; a forthcoming science museum exhibition with new work by Rebecca Rutstein in Los Angeles and other venues to be announced; "The Death of Impressionism," a curated exhibition at the Michener Art Museum featuring the work of Arden Bendler Browning opening in November 2016; and "Philadelphia Painters," a curated exhibition at Kutztown University's Marlin and Regina Miller Gallery featuring the work of Charles Burwell and Arden Bendler Browning. Notable current events include a recent residency by Guggenheim Foundation Fellowship winner Eileen Neff at the Bernheim Arboretum & Research Forest in Kentucky and sabbatical projects by Guggenheim Fellowship winner Sharon Harper, as well as overseas work and a public art piece in Orlando, FL by Scottish artist Dana Hargrove.
The gallery has also been working on a major public art project with the city of Philadelphia and Arden Bendler Browning that will be unveiled this August, a curated citywide art project benefitting the Arts & Business council for 2016-2017, a consulting project with a London, Philadelphia and Washington, DC-based corporation with commissioned artworks at each location, mural arts projects to be announced late summer, several additional corporate projects, and an RDA project to be announced this fall.
In addition, Bridgette Mayer has a forthcoming book, "The Art Cure: A Memoir of Abuse & Fortune," to be released mid-July. She will be lecturing around the country and doing workshops for artists about growing their careers to the next level whether they are emerging or established. Mayer will be working with Temple's Fox School of Business on a special program around finance, marketing, and motivational topics for artists and creative types in 2016-2017. Mayer also has plans to announce a charitable foundation to benefit artists and young women that will also be headquartered in her building at 709 Walnut Street in Philadelphia.
Art dealer, advisor, and soon-to-be author, Bridgette Mayer, was recently featured in Fresh Paint Magazine and will be profiled in upcoming articles in the July issues of Philly Voice and Philadelphia Style Magazine (online). Philly Style will also feature her in their winter print issue. "I am very excited for the year ahead and the evolution of my business into the next realm of what it has become. With projects happening in Philadelphia, the West Coast and overseas and I am growing each of my artists' careers on a national and global level. I have always sought to push the boundaries of what is possible beyond the white walls of my gallery and beyond the city of Philadelphia and have reached a tipping point with achieving this.
"I am excited for my book coming out this July to share my story of hope, motivation, and art with the city of Philadelphia, artists, and young women. I am equally excited about my board involvement with several wonderful organizations in Philadelphia that I will continue to support along with the Philadelphia Museum of Art, the Institute of Contemporary Art, and the Pennsylvania Academy of Fine Arts. In creating a foundation that will serve artists and women, I am thrilled to be a supporting force in this sector of what is possible in service of others who need the assistance. I invite the public, my friends, and my clients to come grow with me globally in 2016-2017."
Websites: www.bridgettemayergallery.com, www.bridgettemayerartadvisors.com
Forthcoming: www.bridgettemayer.com & www.theartcurefoundation.com