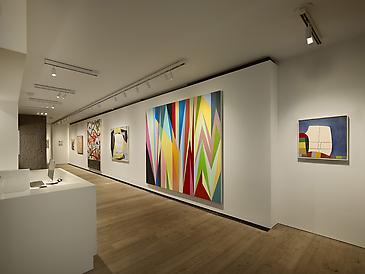 FOR IMMEDIATE RELEASE
Contact:
Bridgette Mayer Gallery
t: 215-413-8893 f: 215-413-2283
e: bmayer@bridgettemayergallery.com
Bridgette Mayer Gallery Reopens with Expanded Gallery, Evolved Program November 15
Closed for much of 2011, the Washington Square gallery presents "Karmic Abstraction" this fall, a group show of sixteen artists, including a black-lit centerpiece by Ryan McGinness
PHILADELPHIA (Oct. 25, 2011) – Bridgette Mayer Gallery is celebrating its 10-year anniversary with a massive transformation – a renovated gallery space on Washington Square and an evolved program. The public will get its first look Nov. 15 when "Karmic Abstraction" opens, highlighting not only the expanded physical space but also an expanding roster of contemporary artists from around the world.
"As a Gallery known for its abstract art and one about to celebrate a major milestone in our history, I thought a group show built around the old and new was a perfect way to begin the next decade," said Gallery Director Bridgette Mayer. "I wanted to explore the notion that everything that's crossed through an artist's mind is evident in their work. And we're doing that with some of the artists we've discovered and cultivated over the past few years and introducing several new ones. It's a very exciting mix!"
The works — 23 of them, all by nationally—and internationally—recognized artists — will be on display in a space that has more than doubled in size since the Gallery closed last winter for extensive renovations.
Mayer purchased the building housing the gallery at 709 Walnut Street in 2006. It was a good fit for many years, but as business expanded — today they represent twenty one artists, have a thriving art consultancy and put on 12 shows annually — it became apparent a move was in order.
"I looked at buildings in every neighborhood of the city," she said. "But ultimately, I didn't find anything that felt like 'home.' I'd always come back to my office here on Washington Square and think: 'this is where I really want to be. I love it here. Why move?'"
So she hired the Philadelphia firm Cecil Baker & Associates to work out the redesign and Hanson Construction to execute the renovations. The redesign was a complete overhaul of the existing space and included converting a former first floor rental apartment and an unused lower level into additional exhibition space, a client presentation room, offices and art storage. At 3,000-square-feet, it provides enough room for the next chapter, Mayer said.
With the expansion now complete and shows booked through 2012, her team is settling into their new digs and turning their attention to highlighting several newly signed artists as well as gearing up for the Art Miami this December. It will be the Gallery's second year in the invitation-only event.
"Ten years ago, at 27 years old, I opened the gallery as a way to curate and exhibit important work by young artists who I felt weren't getting the exposure they deserved in Philadelphia. After signing a one-year lease and struggling through the recession and 9/11, I kept slowly building the gallery and its program and over the past decade have built my business into what it is today. I dreamed that one day I would be at this point, as a leader in the arts in Philadelphia, with a beautiful gallery space and a full roster of some of the best and most innovative Philadelphia and international artists. I am very excited for the next ten years!" Mayer reflected.
Other highlights over the last decade include:
•June 2011: Bridgette Mayer Gallery celebrates anniversary of ten years in business
•2010: Gallery Artist Neil Anderson's "Apollo 3" painting acquired by the Philadelphia Museum of Art for their permanent collection
•2008: Gallery Artist Charles Burwell awarded Pew Fellowship in the Arts
•2007: Gallery Artist Rebecca Rutstein awarded a Pew Fellowship in the Arts (2004) and Pew Professional Development Grant (2007)
•2006: Bridgette Mayer Gallery featured on CNN Anderson Cooper "On The Rise"
•2006: Bridgette Mayer Gallery featured in the New York Times Style Magazine as a top gallery destination in Philadelphia
•Summer 2006: Bridgette Mayer Gallery presents "Greetings from Black Mountain College", a special exhibition including work by Josef Albers, Elaine de Kooning, Jacob Lawrence, Robert Motherwell, Kenneth Noland, Robert Rauschenberg, Jack Tworkov, among others
KARMIC ABSTRACTION and 2012 SHOWS
The opening show's title reflects Mayer's "interest in the idea of the karmic cycle of an artist's history of painting and ideas." Each of the selected works reveal "how, at a given moment in time, standing in front of a work of art, the viewer is faced with the multiple layers and concepts that create a painting as well as a lifetime of ideas, actions and history that make up the career and art history of a contemporary artist," she said.
Karmic Abstraction runs Nov. 15 through Dec. 31. The exhibit will be followed in 2012 by Costa Rican artist and Venice Biennale Golden Lion Award winner Federico Herrero's first U.S. solo show (February); Philadelphia artist and UArts alum Nathan Pankratz in March; and Spanish artist Germán Gómez, who is known for his "frayed portraits," in April.
ABOUT BRIDGETTE MAYER GALLERY
One of the region's preeminent contemporary galleries, Bridgette Mayer Gallery celebrates its 10-year anniversary in 2011. Under the leadership of Director Bridgette Mayer, the Gallery has earned a national reputation for finding and cultivating American abstract artists over the last decade and today represents nearly two dozen leading and emerging artists. A year-long renovation has more than doubled the size of exhibition space, allowing the Gallery to introduce international artists, photography and sculpture to its program – including several US premieres in 2012. In addition to monthly shows and special events, Bridgette Mayer Gallery provides art consulting and curates corporate and institutional collections such as the recently completed Alter Hall at Temple University's Fox School of Business. Located in Philadelphia's historic Washington Square, the Gallery is open Tuesday – Saturday from 10am until 6pm and by appointment.
To learn more about Bridgette Mayer Gallery, its program and artists, visit bridgettemayergallery.com or call 215-413-8893.