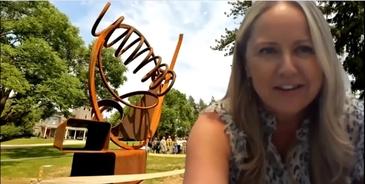 On November 13th, the Bridgette Mayer Gallery presented the latest in a series of virtual private artist talks to safely promote connectedness and art appreciation. Mayer was joined by John Wind, President of the Dina Wind Art Foundation and William R. Valerio, PhD, the Patricia Van Burgh Allison Director and CEO of Woodmere Art Museum in an interactive discussion of gallery artist Dina Wind's (1938-2014) early palette knife paintings.
Though Dina was primarily a sculptor, she created a series of palette knife paintings in the late 1960s and 1970s under the tutelage of renowned art teacher and Group '55 organizer Sam Feinstein. For this event, Mayer, Wind, and Valerio discussed the influence of Feinstein, Group '55, and Abstract Expressionism on Dina Wind's early works. These palette knife paintings allude to her later explorations of space and form as a sculptor. This was a private, interactive Zoom artist talk recorded on Friday, November 13th at 5:30pm EST.
Click here to watch the recorded event.
Click here to view the works discussed.