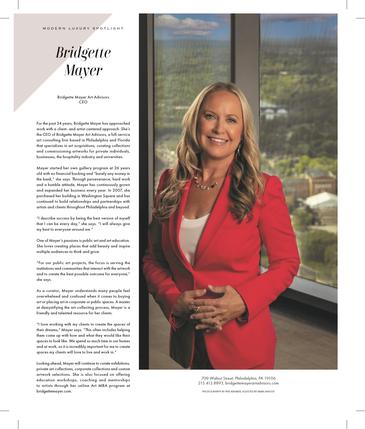 Bridgette Mayer
Bridgette Mayer Art Advisors
CEO
For the past 24 years, Bridgette Mayer has approached work with a client- and artist-centered approach. She's the CEO of Bridgette Mayer Art Advisors, a full-service art consulting firm based in Philadelphia and Florida that specializes in art acquisitions, curating collections and commissioning artworks for private individuals, businesses, the hospitality industry and universities.
Mayer started her own gallery program at 26 years old with no financial backing and "barely any money in the bank," she says. Through perseverance, hard work and a humble attitude, Mayer has continuously grown and expanded her business every year. In 2007, she purchased her building in Washington Square and has continued to build relationships and partnerships with artists and clients throughout Philadelphia and beyond.
"I describe success by being the best version of myself that I can be every day," she says. "I will always give my best to everyone around me."
One of Mayer's passions is public art and art education. She loves creating places that add beauty and inspire multiple audiences to think and grow.
"For our public art projects, the focus is serving the institutions and communities that interact with the artwork and to create the best possible outcome for everyone," she says.
As a curator, Mayer understands many people feel overwhelmed and confused when it comes to buying art or placing art in corporate or public spaces. A master at demystifying the art-collecting process, Mayer is a friendly and talented resource for her clients.
"I love working with my clients to create the spaces of their dreams," Mayer says. "This often includes helping them come up with how and what they would like their spaces to look like. We spend so much time in our homes and at work, so it is incredibly important for me to create spaces my clients will love to live and work in."
Looking ahead, Mayer will continue to curate exhibitions, private art collections, corporate collections and custom artwork selections. She is also focused on offering education workshops, coaching and mentorships to artists though her online Art MBA program at bridgettemayer.com.