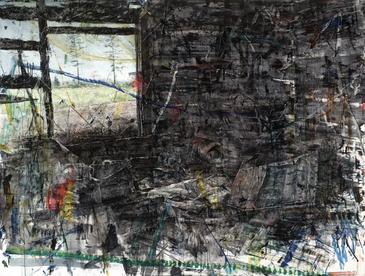 The North Carolina Museum of Art has recently acquired Damian Stamer's 2019 painting Horry County 16 for its permanent collection.
Horry County 16 is a further exploration of abandoned barns in the Carolinas, which evoke the passage of time and memory and are depicted frequently in Damian's work. The barns in this series represent a sort of psychological space, where mind and matter coalesce. This piece is illustrative of a new, more colorful direction that Damian has taken in his recent work.
The North Carolina Museum of Art is one of the leading museums in the American South, known for its state art collection owned and funded by the citizens of North Carolina. Horry County 16 is the second of Damian's work to be acquired by the museum, the first being South Lowell 18, accessioned in 2014.
Stamer states:
"The North Carolina Museum of Art holds a special place in my heart. It was the first art museum I ever visited as a child and has been home to many incredible memories over the years. I'm so grateful that this painting is joining such a significant and meaningful collection."