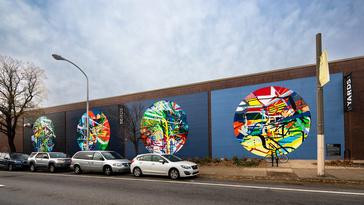 Dedication Ceremony Announced for Arden Bendler Browning's Philadelphia Mural Elastic Geography
April 9, 2022 – Philadelphia, PA. In partnership with Mural Arts Philadelphia and Yard's Brewing Company, Bridgette Mayer Gallery is excited to announce a public dedication ceremony for Arden Bendler Browning's new mural Elastic Geography. The ceremony will take place on Wednesday, May 11 at 4:30pm and will feature guest speakers and an official ribbon cutting.
The mural, which is located on the Yards Brewery building at 500 Spring Garden Street, was completed in December of 2021. Bendler Browning designed and created Elastic Geography using colors derived from Yards' current product labels and selected landmarks around the immediate neighborhood. The resulting marks are gestural and abstract, echoing the energy and ongoing fluctuation and transition within the community where Yards Brewery is located. The circular portals offer the possibility of imagined worlds within that space.

About the Artist:
Philadelphia based artist Arden Bendler Browning creates large abstract paintings, small works on paper, and virtual reality (VR) environments. Her work explores movement, travel, digital imagery, and creating immersive spaces.
Bendler Browning's works are included in several public collections such as the West Collection, the Pennsylvania Convention Center, Dream Hotel Nashville, Toyota, and PNC Tower, amongst others, and numerous private and corporate collections. Her work is represented by Bridgette Mayer Gallery in Philadelphia, Galleri Urbane in Dallas, and Tinney Contemporary in Nashville. Her work has been featured in New American Paintings twice (2009 & 2013), The Studio Visit, Nashville Scene, D Magazine, Philadelphia Style Magazine, The Morning News, the artblog, polisblog, Philadelphia Inquirer, Atlanta Journal-Constutition, and Drawing Magazine, among others. She has been featured in exhibitions at the Pennsylvania Academy of Fine Arts, Weatherspoon Art Museum, James A. Michener Museum, Swarthmore College, Kutztown University, University of the Arts, West Chester University, Delaware Contemporary, Arlington Arts Center, and more. A commissioned permanent work for the City of Philadelphia at the Philadelphia International Airport, awarded through a rigorous competition and selection process, was installed in February 2017. Bendler Browning holds a BFA in Art with honors from Carnegie Mellon University (1997), a Master of Studio Art with high distinctions from Sydney College of the Arts (2000), and an MFA in Painting from Tyler School of Art (2003). She has lived and worked in Philadelphia since 2001, with her husband, creative tech programmer Matt Browning, and their three children.