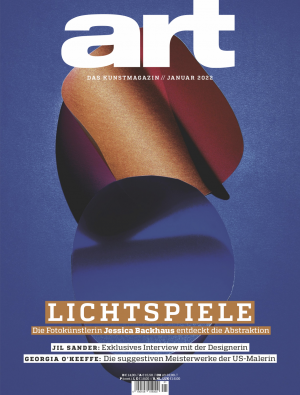 art Magazin, January 2022
Cut Out
Text: Sabina Paries
German-American photographer Jessica Backhaus is currently in great demand. At Paris Photo, she was represented in no fewer than three exhibitions. We met up with her in Paris and spoke with her about her representational and abstract photographs.
For anyone who is not yet familiar with Jessica Backhaus - now is a good time to get to know her and her work. Backhaus began her career with documentary photography about 20 years ago, and today she makes bold, even avant-garde photographic art. Her book Cut Outs comprises 50 plates that at first glance may be mistaken for paintings. But the images consist instead of arranged objects - geometric shapes made of paper - cut out by hand and laid out with consummate skill. And then not simply photographed. But rather composed as a play of light and shadow. This is surprising, it is incredibly precise, and it instantly enthralls and seduces. Art! Not just conventional photo art.
It's loud and crowded in the corridors of the GRAND PALAIS EPHEMERE, located at the iron feet of the Eiffel Tower. Clusters of people gather at booths of galleries and publishers. Jessica Backhaus, 51, knows quite a few of them, greets them quickly in German and English, exchanges a few friendly words in French. Her journey began in Paris some 30 years ago. Today, brand new works are on display at the fair but also some older ones. The Cut Outs, her current work, can be viewed at the booth of her longtime Berlin gallery ROBERT MORAT, and on the walls of GALERIE CARLOS CARVALHO (Lisbon) hang motifs from her 2019 project in Chile, Far away but close. She is also featured in the special show "Elles x Paris Photo," which exclusively presents images by women photographers.
It may sound corny, but Paris was always her plan. As a seven-year-old, she says, in 1977, she sat looking out the window in Stuttgart, where her family - her father a theater director, her mother an actress - was living temporarily. "I dreamed myself far away. Paris, New York, Berlin." And those dreams came true. At 16, she moved form Berlin to Paris, where she studied photography and visual communication, and - thanks to her required reading, the book Photographie et Societe - met the German-French photojournalist GIsele Freund.
"My friendship with the wonderful Gisele inspired me. I admired her courage to choose her own path, her never-ending curiosity about life. Educate yourself! she said. Go to the theater, read literature, go to museum. Stay alive in your mind and in your heart!"
Anyone meeting the lively Jessica Backhaus today will find this to be an apt description: vitality of both mind and heart, in life as in art, and a delight in flow as an essential element of her work.
"Besides photography, most of my inspiration comes from fine art or from a film, a book, an encounter. And from music! I always listen to music while I work. Music triggers emotions."
Her interest in art is not focused on one particular genre, one specific period. During the week of the fair she visited a number of museums: the MUSEE D'ART MODERNE in order to discover paintings, furniture, graphics, and photographs by the Bauhaus artist couple Anni and Josef Albers, and the CENTRE POMPIDOU to finally see Miro's triptych Blue I, II, III in the original. This work by the Spanish artist is one of Backhaus' favorite, and, together with the imagery of Etel Adnan and Sonia Delaunay-Terk, it was the inspiration for the Cut Outs, her latest project.
With these photo tableaux, Jessica Backhaus has distanced herself further from the documentary field. Exhibited for the first time in July in cooperation with ROBERT MORAT in the art space THE EYE SEES at the photo festival in Arles, they comprise successful arrangements, literally fired by the radiance of the sun. The images are a meditation on colors, shapes, light and dark.
Backhaus cut shapes from transparent paper in a wide variety of carefully selected shades. Arranged them over and under each other. She then placed the finished composition on a plain background in just the right tone. The play of color and light was augmented by the warmth of the sun, causing the carefully cut shapes to bend, roll up, curl at the edges. In the finished photo, glistening highlights and dark blocks of shadow make the objects virtually vibrate before our eyes.
Backhaus's mastery is evident in these simple compositions. Such photos can only be achieved by someone who is intimately familiar with the subtleties of color nuances and graphic play. And one might also say: someone who lets objects take on their own life. For the last 20 years she has been crafting her own personal image cosmos.
At first glance, the Cut Outs would appear to break with her previous tableaux of everyday subjects. And yet, looking at the oeuvre as a whole, a common thread quickly emerges: One recognizes the careful handling of color, which has been further refined over the years. Throughout, we discover motifs with pictorial elements in optimistic, luminous tones and counterparts in slightly desaturated nuances, a color movement toward the pastel. One senses a balancing act between gentle sadness and an affirmative lust for life - a balance that makes for the tension in all of her pictures; the ambivalence between armored shell and vulnerable skin, a quietly pulsating joie de vivre that is interrupted by the knowledge of its transience.
Reflections in glass panes or in water are recurring elements of her imagery, as are everyday scenes that have rarely made such a lyrical impression. There is a rubber band shaped into a figure 8 (from the project Six Degrees of Freedom, 2015), a blue tennis ball in a puddle on a yellow-sprayed roadside (from the project What Still Remains, 2008), and a photo of Marlon Brando against floral wallpaper, framed by a 1950s interior in orange and cherry-blossom pink (from What Still Remains, 2006).
Her debut project, Jesus and the Cherries, was an instant success, both artistically and commercially. Of all her works, it is the one that was still the most strongly influenced by photojournalism. The book shows photographs taken in a village in the Polish province of Pomorskie. It is a study that includes a few quiet portraits that recall in style the adolescents portrayed by the artist Rineke Dijkstra. The main focus, however, is already on the still lifes that would soon become Jessica Backhaus's trademark.
As a photographic artist, Jessica Backhaus has something that can't be taught: an intuitive eye, and a very personal feeling for objects. She is able to give things a stage; her nature mortes seem anything but dead and are instead short pauses for breath in the steady flow of life. The Cut Outs, too, are quite fleeting in the original, made only for the moment. They exist for the moment when they are photographed.
With the Cut Outs, Backhaus began as a picture maker to depart formally from pure illustration and break into three-dimensional and abstract realms. She drew inspiration from undogmatic artists who embraced diverse forms of expression, such as Hans Arp. Surveying her works and her trajectory over the past 16 years, the reduction of the pictorial elements is striking. The motifs in Jesus and the Cherries were still rich in detail, but those details dwindle from project to project, while the empty space around things increases.
The late Swiss curator Jean-Christophe Ammann predicted as early as 2008 this break with too much representation as an imperative next step. "This might seem strange to you," he said, "but eventually you'll end up completely in the abstract. One can feel in your pictures the longing for abstraction."
Backhaus does not wish this shift to be understood as an about-face. Abstraction and representation ideally converge in the image. "In the end, however, the Cut Outs are pure, very concrete photography. What interests me is the tension between reality and abstraction." Abstraction creates freedom. "I love it when the imagination is challenged and thoughts are given free rein. That gives us the space to dream and feel."
The artist has created this space for herself in Berlin, where she lives with her partner in a top-floor apartment. Two rooms, kitchen, bathroom. Each room in a different color scheme, all colors carefully selected. Potato peeler and coffee cup in like tones blend in with the whole. "When my Italian gallerist came to visit, she said: 'Now I understand you even better. You live as in your pictures!' Conversely, I find my way toward things through still lifes. Because things have a soul. Each object has its place, its own color, which in turn harmonizes with other colors. I find the interplay of colors fascinating. And color is vital to me in every spectrum."
Jessica Backhaus is often asked whether she is a photographer? Or an artist? Or a photo artist? Backhaus remains unperturbed: "I am a photographer who engages with things artistically. My medium is photography. But I'm also interested in other forms of expression that can be combined well with photography. I find the spectrum of photography exciting, because there are still so many possibilities for breaking new ground. Photography is very close to my heart, but I also want to create other things, without being able to say yet what they will actually look like."
Incidentally, it was US photo maniac David LaChapelle who once steered Jessica Backhaus from Paris to New York. "He said: Come to New York. With your passion and your energy, you'll be successful there!" She had worked in Paris as LaChapelle's assistant. The master didn't mince words: "He said he noticed right away that I didn't know much about photography. But he felt a great passion." In the end, she stayed in the USA for 15 years and become a US citizen.
And today? She has lived in Berlin, Paris, and New York. What's next? In live and in her art? A go-getter like Jessica Backhaus is bound to suffer during lockdowns. "I need new beginnings and challenges. I like to venture into the unknown. At the beginning of a project, I'm never too sure where the journey will take me. Being open to the unknown and trusting your intuition. That's the magic."