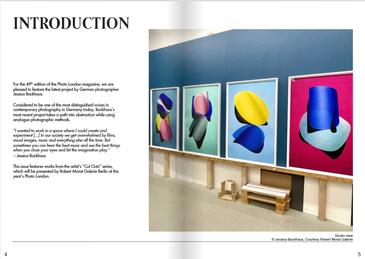 For the 49th edition of the Photo London magazine, we are pleased to feature the latest project by German photographer Jessica Backhaus.
Considered to be one of the most distinguished voices in contemporary photography in Germany today, Backhaus's most recent project takes a path into abstraction while using analogue photographic methods.
"I wanted to work in a space where I could create and experiment […] In our society we get overwhelmed by films, visual images, music and everything else all the time. But sometimes you can hear the best music and see the best things when you close your eyes and let the imagination play." – Jessica Backhaus
This issue features works from the artist's "Cut Outs" series, which will be presented by Robert Morat Galerie Berlin at this year's Photo London.
"Up to now, painting was like photography in colour. But colour was always employed as a means to describe something. Abstract art is the premise of a liberation from the old pictorial formula. A genuinely new form of painting will emerge the day we understand that colour has a life of its own, that the endless combinations of colours bear poetry and a poetic language way
more expressive than the older forms. This mysterious language has to do with vibrations, the very life of a colour. In this domain, new possibilities are infinite." - Soina Delaunay, 1949
The pictures in Jessica Backhaus' new series are created by using the simplest means and they reduce photography to its basic elements: light and shadow, shape and color.
In her last publication A Trilogy (Kehrer, 2017), Jessica Backhaus has taken a path into abstraction, which is consistently continued here – with analog, photographic methods.
Cut out transparent paper reacts to the heat of intense sunlight, deforms, rises, and casts shadows. The photographer who arranged and staged these compositions becomes an astonished observer of events on which she has only limited influence, the documentarist of
a visual experimental arrangement, a poetic choreography of intense colors in the sunlight.
"Colors are emotions." - Jessica Backhaus
To view the full catalogue, please click here.