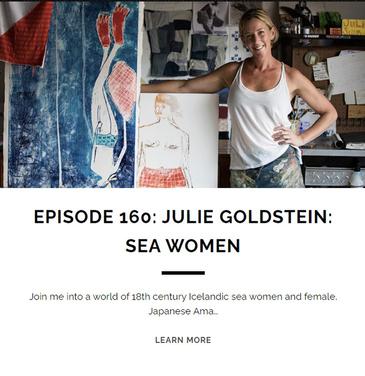 Philadelphia, PA – June 21, 2022. Gallery Artist Julie Goldstein was recently interviewed on Beyond the Paint with Bernadine, a podcast that amplifies and celebrates the artistic and creative voices of female artists, collectors and gallery owners. In the podcast's most recent episode #160, titled "Julie Goldstein: Sea Women," Goldstein speaks with host Bernadine about her artistic, personal, and professional background, the strong, independent women that inspire her to create, and some special details about her latest body of work. The episode was produced in conjunction with Goldstein's solo exhibition The Sea in Me, on view at the Bridgette Mayer Gallery from June 28 until August 13, 2022.
Episode Summary
Join me into a world of 18th century Icelandic sea women and female, Japanese Ama pearl divers through the vision of woodcut printmaker, storyteller and artist Julie Goldstein. This episode includes a conversation with the artist. Her solo exhibition "Sea in Me," is celebrated at the Bridgette Mayer Gallery in Philadelphia. (June 28 – August 11, 2022).
Click here to listen to the full episode.