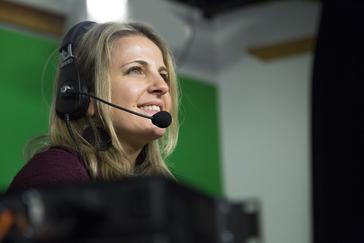 Gallery Artist Rebecca Rutstein sets sail aboard the Nautilus exploration vessel as an "Artist at Sea"
From July 6-26, Rutstein will be participating as an "Artist at Sea" Science Communication Fellow aboard Robert Ballard's Exploration Vessel, Nautilus. Departing from the Galápagos Islands, she will be working alongside scientists who are conducting high-resolution multi-beam mapping of the ocean floor through the East Pacific. The team will then focus on the California Borderlands where more detailed mapping will take place in this tectonically complex region. She will be using the live feed of data to create paintings while aboard the ship and sharing her experiences about the expedition through live online interactive sessions. Following her time on the vessel, she will create large-scale works based on these never-before-seen high resolution mappings, which will be exhibited in 2016.

Tune in to a live video feed at nautiluslive.org where you can post questions to the participants or simply view the happenings on the ship!