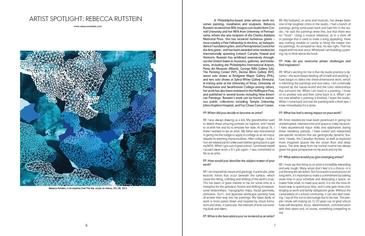 REBECCA RUTSTEIN Interview
A Philadelphia-based artist whose work traverses painting, installation and sculpture, Rebecca Rutstein received her BFA (magna cum laude) from Cornell University and her MFA from the University of Pennsylvania, where she was the recipient of the Charles Addams Memorial Prize. She has received numerous grants – most notably a Pew Fellowship in the Arts, an Independence Foundation grant, and a Pennsylvania Council for the Arts grant – and has been awarded artist residencies internationally, spanning Iceland, Canada, Hawaii and Vermont. Rutstein has exhibited extensively throughout the United States in museums, galleries, and institutions, including the Philadelphia International Airport, Peréz Art Museum (Miami), George Billis Gallery (Los Angeles), The Painting Center (New York), Denise Bibro Gallery (New York), seven solo shows at Bridgette Mayer Gallery (Philadelphia), and two solo shows at Sylvia White Gallery (Ventura). A visiting artist at the University of Texas, University of Pennsylvania and Swarthmore College among others, her work has also been reviewed in the Huffington Post, and published in several books including New American Paintings. Rutstein's work can be found in numerous public collections including Temple University, Johns Hopkins Hospital, and the Fox Chase Cancer Center.

FP: When did you decide to become an artist?
RR: I was always drawing as a kid. My grandmother used to sketch these amazing portraits on napkins, and I loved to sit with her and try to emulate her style. At about 16, I knew I wanted to be an artist. My father was instrumental in giving me the nudge to apply to college as an art major, despite its seeming impracticalities. After college, I took a non-art-related job for a few years before going back to get my MFA. When I got out of grad school, I promised myself I would never work a 9-5 job again—I was committed to life as an artist.

FP: How would you describe the subject matter of your work?
RR: I am inspired by nature and geology, in particular, plate tectonic forces that occur beneath the surface, which cause the rifting, colliding and shifting of the earth's crust. This has been of great interest to me for some time as a metaphor for the upheaval, friction and drifting of interpersonal relationships. Topographic maps, fractal geometry, animation, Sci-Fi, and Japanese landscape painting have all woven their way into my paintings. My latest body of work is more pared down and inspired by cloud formations and skies, in particular, the intervals of time surrounding dusk and dawn.
FP: What is the best advice you've received as an artist?
RR: My husband, an artist and musician, has always been one of my toughest critics in the studio. I had a bunch of paintings going some years back and had him in the studio. He said the paintings were fine, but that there was no "hook". Using a musical reference, as in a short riff or passage that is used to make a song appealing, there was nothing notable or catchy to bring the viewer into my paintings. As annoyed as I was, he was right. That has stayed with me ever since. Whenever I am building a painting I try to think about the hook.
FP: How do you overcome artistic challenges and find inspiration?
RR: What's exciting for me is that my studio practice is dynamic—the work keeps feeding off of itself and evolving. I have begun to delve into three-dimensional work, which is informing the paintings and vice versa. I am continually inspired by the natural world and the color relationships that surround me. When I am stuck in a painting, I move on to another one and then come back to it. When I am not sure whether a painting is finished, I leave the studio. When I come back and see the painting with a fresh eye, I know immediately if it is done.
FP: What has had a strong impact on your work?
RR: Artist residencies have been paramount in giving me uninterrupted, intensive time and space to make my work. I have experienced major shifts and epiphanies during these residency periods. I have visited and researched site-specific locations that are geologically dynamic (Iceland, Hawaii, the Canadian Rockies), as well as explored more imagined spaces like the ocean floor and deep space. The time away from my normal routine has always given me great perspective on my work and my life.
FP: What advice would you give emerging artists?
RR: I must say that living as an artist is incredibly rewarding and very tough. Many artists don't feel it is a choice—it is just the way we are wired. But if you want to pursue your art long-term, it's important to make a commitment by setting aside time in your schedule and dedicating a space, no matter how small, to make your work. It is not the most efficient way to spend your time, and it only gets more challenging as work and family obligations grow. Without the camaraderie of a school community, it can also feel isolating. I say all this not to discourage but to be real. The people I know still making art 15-20 years out of grad school have self-discipline, focus, determination, communication with their peers and, of course, something compelling to say.