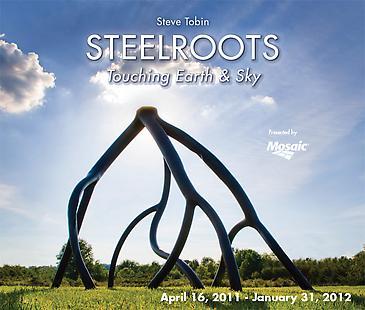 Steelroots - Touching Earth & Sky at the Minnesota Landscape Arboretum, Chaska, MN
April 16, 2011 - January 2012
Sixteen sculptures...four seasons...infinite wonder.
Steve Tobin's sculptures are a dramatic fusion of nature and art. Set among the Arboretum's glowing gardens and peaceful groves, they invite you to touch, stroll through or even lie down beneath them, to discover your own unique views of the land around you, views that change with the light and the seasons.
HIGHLIGHTS
This is the first exhibition ever of Tobin's Steelroots sculpture series in Minnesota, and only its second showing worldwide. It showcases:
Thirteen sculptures of massive rolled and bent steel pipes soaring up to 40 feet in height
A pair of bronze root sculptures titled "Romeo & Juliet"
A bronze sculpture of a forest floor
Steel interpretations of pine cones
Five 'child-sized' root sculptures 3-5 feet high
WHERE TO FIND THEM
Sculptures will be sited around the Visitor Center and along a 0.6 mile paved walk from the Visitor Center to the ever-popular Maze Garden. They rise in scale as the landscape changes from intimate gardens of roses, dwarf evergreens and bright perennials to quiet groves of towering oaks and pines. Is it art framed by nature or nature framed by art? The interplay invites your participation, to see what's around you with fresh eyes.
AS NATURE'S KALEIDOSCOPE TURNS
Plan to refresh your natural spirit through the seasons. Steelroots sculptures range in color, deep black, ethereal white or rust-toned patina. As the Arboretum landscape shifts from misty spring green to verdant summer, fall russet and gold, then winter's hushed snows, each seasonal change brings new dimensions to the work.