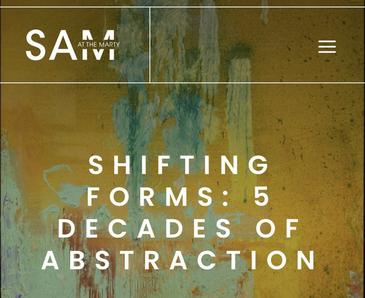 Shifting Forms: 5 Decades of Abstraction at Susquehanna Art Museum
September 30, 2023 – January 21, 2024
Since the early 20th century, abstraction has been an essential component of modern art. Rather than relying on recognizable subject matter, abstract art pulls away from realism and embraces shape, form, color, and line as foundational and emotive elements. Though the abstract art movement is thought to have reached its peak sometime in the mid-20th century with the rise of Abstract Expressionism, artists persist in developing new forms of abstraction to the present day.
Shifting Forms: 5 Decades of Abstraction traces radical shifts made by abstract artists over the last 50 years. The artists featured in this exhibition employ innovative approaches to mark making and the experimental use of fine art and everyday materials that expand the language and legacy of abstraction.
ARTISTS
Chakaia Booker
Tim McFarlane
Bruce Conner
Beatrice Riese
Helen Frankenthaler
Benjamin Lee Sperry
Nancy Graves
Alice Trumbull Mason
Sol Lewitt
Jonathan VanDyke
Click here for more information.