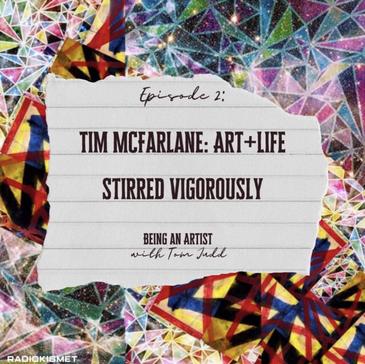 Gallery Artist Tim McFarlane was featured as a guest on Being An Artist, a RADIOKISMET podcast hosted by fellow Philadelphia artist Tom Judd. The episode is titled "Tim McFarlane: Art & Life Stirred Vigorously" and aired on March 19, 2021. Tim shared stories and insights from the beginning of his art career, including his early artistic inspirations and role models, his time at Tyler School of Art, and his representation by Bridgette Mayer Gallery. Tim also discussed some of his recent projects and his recent career shift to becoming a full-time artist. The episode has a runtime of 56 minutes and can be found anywhere podcasts are available.
Episode Summary:
Host Tom Judd sits down with painter Tim McFarlane to discuss the importance of putting in the work, and showing up. Tim also talks about the daily challenges with a painting, even when it's not going well, and how to listen to the painting instead of your busy mind.
Click here to listen to the episode.