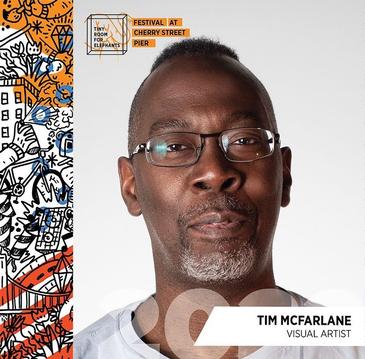 July 8, 2022 – Philadelphia, PA. Gallery Artist Tim McFarlane will participate in the 2022 iteration of the Philadelphia arts festival Tiny Room for Elephants. Tiny Room for Elephants Festival is a living art "gallery" that incorporates styles and mediums of 35+ visual artists and over 20 musicians throughout 30 days. Artists are invited to paint and install collectively in a public exhibition space, to a live soundtrack curated by local DJs and producers. The community is welcome to come witness the construction of the "gallery" and are encouraged to connect with local makers and see the creative process first hand. This is McFarlane's second time participating in the festival; in 2019, he created Ode (TRFE19) during the festival. McFarlane states:
"The thing is, TRFE [Festival] isn't easily boiled down to a digestible sound bite; it encompasses so much and is experienced in different ways by everyone involved. 'Experience' is the key word here because TRFE is an event that has to be experienced in order to have some idea about what it is for you."
McFarlane will be painting live from July 10 – 17 at Cherry Street Pier, and the festival will occur on July 21 – 24.
Click here for more information.